January 4th, 2015
Labels
By Wil Golden


I was asked once whether I consider myself a black artist or an African American artist I immediately thought about a rap song by Salt and Pepa, "Black Magic," one verse goes:, "Anything tragic relates to Black, Black Sunday or Monday, Black tongues or lungs may cause a Black sleep, why say Black sheep, Black Sabbath evil, Black market illegal, Black widow is deadly, Black potion ain't healthy see" some of us have heard this. If you want to listen, I found it on YOUTUBE here.
Anyway, although I have been making art for forever, I have not been working as an artist long. My work has and continues to be what intrigues me. Often times it answers the statement; that would make someone think. I hope that what is intriguing me now has changed since I have given my life to Christ. Every day I ask the Holy Spirit to direct my paths and have me not lean unto my own understanding. To give me wisdom and strength to let God do his will in my life.
Before I posted one of my last pieces of art work on my website, Wil Golden Fine Art, I thought about whether I would be labeled an African American, or a Black artist and I never really thought about it before. Some of us have not learned how to not think about how we will be labeled by others...it is ingrained in some of us, taught to us subconsciously from birth in many different ways. That being said, at this point in my life, I do not care how you label me. I produce and create art because I have a God given ability to, and my life is all about Him…for my good and my God's glory. Again, my work intrigues me and I hope it will get others to think and see differently and hopefully like and purchase. That is the God given vision for this gift that I have been given. I am just as Black as the next black person, in color, and I understand that experience in general, but my black experience is different than your black experience, and is different than your black experience, and is different you're your brown experience, and different than your yellow experience, and is different than your white experience and your red experience. Life is too short to be concerned about negativity that others will bring to the table. My trust is in GOD not people. If you allow others to label you…they will. You must know who you are and only Christ really knows you and can tell you your true purpose here.
So, what do we do…What we should do is bring all those experiences to the table and produce what we produce and create what we create and do what we do based on experience, your mission, your goals and let the labels fall where they may. Stay engaged!

March 7th, 2011
Generation to Generation
By Wil Golden
In John 5:19-20 NLT Jesus explained, "The Son can do nothing by himself. He does only what he sees the Father doing. Whatever the Father does, the Son also does. For the Father loves the Son and shows him everything he is doing. In fact, the Father will show him how to do even greater works".
Ronald Regan once said, "Each generation goes further than the generation preceding it because it stands on the shoulders of that generation. You will have opportunities beyond anything we've ever known".
A generation is a stage or degree in a succession of natural descent as a grandfather, a father, and a father's son comprise three generations. Additionally, a generation can refer to stages of successive improvement. Like President Regan said we will have opportunities beyond anything we have ever known if we stand on the generation before us to improve. However, not only do we have to stand on the generation before ours but we must give the next generation a solid foundation to stand on. That is our responsibility.
In Luke 6:48 NLT Jesus says, "It is like a person building a house who digs deep and lays the foundation on solid rock. When the floodwaters rise and break against that house, it stands firm because it is well built.
The artist believes that not only must we be a solid foundation for the next generation to stand on, but we must help build the next generation to stand on. We do this by reaching back to the proceeding generation and bringing forth the good from that generation to the. Yes, we, you are currently in that unique position, the bridge from one generation to the next and we now must consider the generation that came before us and the generation that comes after us. If we fail at this responsibility, as Dr. Martin Luther King Jr. said, "We will have to repent in this generation not merely for the harsh words and actions of the bad people, but for the appalling silence of the good people". It's up to you – think about it.

May 25th, 2010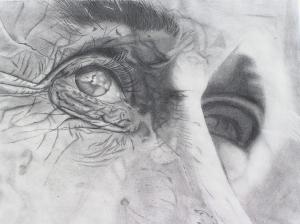 There have been some rough times in my life. Some times that I had to "Stand Still and See" the Lord our GOD work. I created this work during one of those times.

Exodus 14:134 (KJV) And Moses said unto the people, Fear ye not, stand still, and see the salvation of the Lord, which he will shew to you to day: for the Egyptians whom ye have seen to day, ye shall see them again no more for ever.

For all who believe, at times we must, "Stand Still and See" and let GOD work.

We cry, "Lord, when, when are you going to do something? If you don't act now, it will be too late!" But GOD is never too late. He always acts -- and not according to our schedule, but his. It is GOD, not the devil, who leads us into difficult places. We may cry out, "Lord, why are you doing this?" But the truth is, not only does he allow our trial, but he does so deliberately -- for a purpose. And sometimes this is hard for us to understand! GOD allows these hard things in our lives in order to produce faith in us. He is guiding and molding us into godly examples and to be testimony to a faithless, ungodly time.

I believe every move we make is ordained by our heavenly father. If this is indeed true, then I can't believe God would ever lead me to the brink of a difficult situation only to abandon me or not allow a way out.
God is completely faithful to his children, in every situation. It is the carnal mind that is not. GOD has called us to himself. Will you stand still in your crisis, and lean on faith, and trust him to see you through?